We sure do have the prettiest sunrises and sunsets here in Wildomar, California.  This one showed up on the weather page at SWRNN.com (SouthWest Riverside News Network):
============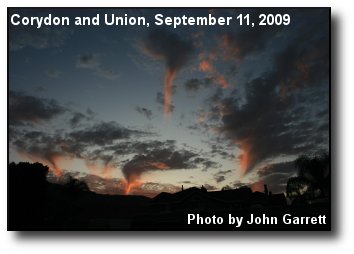 Virga over Wildomar: Cone clouds of water vapor reach for the earth. Photo courtesy of John Garrett.
============
As of right this minute, it's here, just in case you want to see it for yourself.  (Corydon and Union is the street location from which the photo was taken.)
We are also extremely grateful for the rain this season.  Our total accumulation in Wildomar this season is just over 11 inches.  I know many areas have suffered enormous damage from the rain, and we've had our share of road problems and mudslides, but despite all that it's still a welcome relief from the long drought and the high water rates we've had to pay over the past few years.
Allan's truck out front of our house, getting an undercarriage wash…
Neighbors next door could have done some "brownwater" rafting…!
Across the street, more of the same.  At one point, the water runoff from up the hill was enough to completely fill the street from curb to curb. (Uphill is to the right of these pictures.)
//Steve//